Thank you!
Four weeks of training outside, many different triathlons for many of our athletes, Two Open water swim races in Ontario are now in the books, Five LOST swims since we started on June 4th all of them cold, I mean REALLY cold and yet every week over 70 swimmers experience what it is to swim in Lake Ontario. Most of our athletes are doing really well and many others are discovering that swimming outside can be exciting and really fun.
There are others that need a bit more encouragement to get to the water. We know that once they are there they will be having a blast.
We could and should have written about all those things and events that have happened but is a bit late for that now so instead we are sharing now a set of photos that sums up pretty much the month we had.
Thank you all for helping us turn cool ideas into a reality.
Guelph Triathlon Club, First practice at the lake Early June 2016
Embrace Open Water Swimming First official swim in Gulliver's Lake June 6th 2016
Katie at the Kids of Steel Triathlon May 29, 2016
Volunteers at the C3's Caledon Kids of Steel

First LOST swim on June 4th 2016. The biggest first swim of the season turnout of LOST history and still many more have come in the following weeks!
In the picture Rob Kent welcoming swimmers  with the view of Toronto skyline on the horizon.
Guelph Triathlon Club after racing in Guelph Lake 1 several podiums and personal best performances this day.
Everyone had a blast and everyone that swam was happy with their swim!
Having fun over some signs at the race site, Embrace Open Water swimmers after their 1 and 2 Km. swim race at Kelso Quarry
"Mine over Matter" in conjunction with the Xterra off road triathlon. What an incredible gorgeous day for and event like this.
Congratulations to James Kowalewski for yet another successful great event for Element Racing.
Sue, Katie and Barb, medalist at the "Mine over Matter" Open water swim races. Part of the Global Swim Series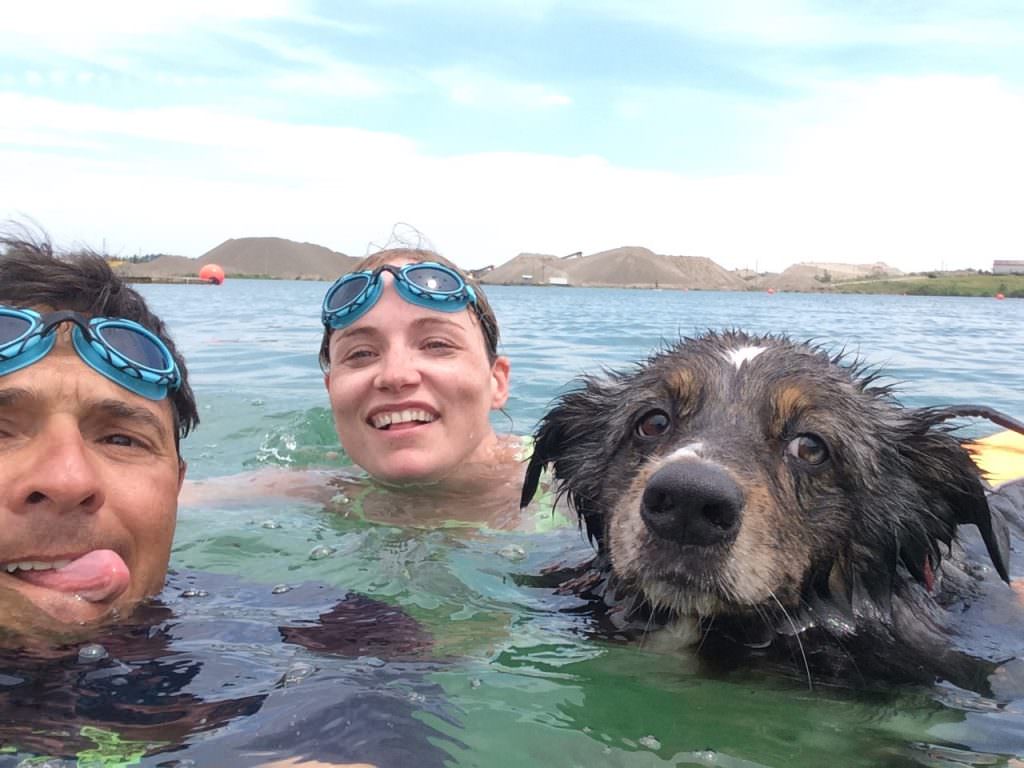 After a long weekend setting up race courses, and organizing events after the C3's Open Water swim race at the Caledon Quarry
we all jumped into the water for fun including Korben who had a blast developing his swim racing skills.
We also had an awesome Stand up paddle race where everyone had a lot of fun. Thank you Caron and Barrie Shepley for putting
up a great race in an awesome safe place and for allowing us to be part of it.
Triathlon Ontario announced the results for the club Championships last week and GTC was third place!
We only could celebrate with Cup Cakes courtesy of Jamie and Justin after a nice swim last Thursday June 30th
And that was the month!
We are looking forward to another amazing few weeks to come:
Here it is what EOWS is up to this month on top of the regular programs
Anita Doppenberg will attempt to swim across Lake Erie
https://www.facebook.com/Swim-4-Dig-1321556414537455/
Maya Farrell Will attempt to swim Lake Ontario
July 16 we have another GSS race the North Shore Challenge in Turkey Point Lake Erie.
July 30 Ricky Jacobs and his relay team will attempt to swim across lake Muskoka.
You can not miss it it will be fantastic!
About our programs:
Some of our programs have finished for the summer and others are about to start! So check out our programs page.
The first one that is now going on is Tuesday mornings 6:00 am at Guelph lake Campers beach. Those that show up will get what the y need in the water according to what they want. Long distance, skills, navigation whatever it is you need we will make our best effort to help you with.
Being negotiated is now a time at the C3 Quarry in Caledon stay tuned for more about this program likely to start mid July.
See you at the lakes!